Last February I took a trip to DC to see the Joseph Cornell show at the Smithsonian. Cornell is like the Jonathan Richman of art - he goes to bakeries all day long, and he's just genuinely charming.

The Smithsonian also has this amazing altar-room thing called The Throne of the Third Heaven of the Nations' Millennium General Assembly. It's totally classic nutso outsider art - all the sparkles you're looking at are silver and gold tin foil. In the room with it, I overheard my new favorite definition of art:

Dude: I could have done that, it's just tinfoil, so how come it's art?

Dude's girlfriend: Because you didn't.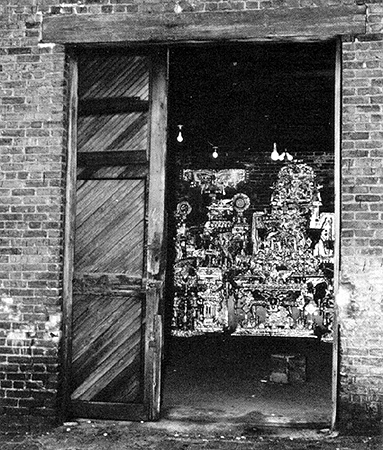 I was going to stop there, but reading the back-story when I found the pictures made it, of course, juicier. There's an essay you can read here and a zoom-y interactive thing of the whole piece here.

The altar was made by James Hampton. He started having religious visions in his early twenties, and when he was 41 he rented a garage to make his altar in. He worked on it there, mostly late at night after finishing his shift as a janitor, from 1950 to his death in 1964. It's made completely of scavenged material - he sometimes bought secondhand furniture and encrusted it with foil; lots of the insides are cardboard tubes, and in some places structural elements are just held together with wrapped tin foil. Somehow it also involves light bulbs and desk blotters.

Fourteen years is a really long time to make a tin foil altar.

Like lots of outsider art, nobody really knew what Hampton was up to until after he died and his landlord opened the garage. His family hadn't known about his project and didn't want to keep it. The National Museum of American Art did want it, so there it is. There's a subplot here, too - Hampton spent fourteen years talking to God in his garage, and what he left behind was spectacular in a way that appealed to a museum curator, which of course makes it even rarer.

It really appeals to me, too, in a kind of formal way, which is maybe weird to say about something that's all substance and no style - like all re-contextualized outsider art (he was making an altar, not a museum piece) it feels kind of like looking at somebody else's dirty pictures. I love how it's totally low-tech, self-taught, self-thought-up, how it feels transcendent and amateur at the same time. Which is something I've chased after a lot more cautiously, consciously or not, with the typewriter painting (old and unblogged) and the clothespin fence.


Today I'm wondering what "Fear Not" is about. First I was thinking about art and fear - You spend all this time on your own, holed up in your head/studio/garage, wherever, wondering whether what you're doing is awesome or laughable, but feeling totally driven to do it all the same. At least once, Hampton tried to let the world know what he was up to - he called the newspaper, and two reporters came out to see the garage and laughed at him. Ouch.

Then I searched the bible (did you know you can do that now? It's like totally text searchable online, and in umpteen languages and versions, of course) and he probably means this part of Isaiah -

Fear not, for I have redeemed you;
I have summoned you by name; you are mine
When you pass through the waters,
I will be with you;
and when you pass through the rivers,
they will not sweep over you.
When you walk through the fire,
you will not be burned;
the flames will not set you ablaze.
God really likes him, right?